First and foremost always speak with your physician

THE DOCTOR VISIT
A Doctor visit can be stressful. Doctors and nurses sometimes seem too busy to listen, and you may have concerns that are not easy to explain quickly. But approaching it like a partnership can really help everyone.
GET READY FOR YOUR VISIT
You'll share health records but you also want them to know your child. Make a list of things you want to tell them and also what you want to ask.
BOOK A TIME THAT WORKS
Ask for an appointment time that will be best for your child.
CONNECT WITH THE DOCTOR'S OFFICE
Find out how they do things, who your contact will be, how to get in touch.
MEET THE TEAM
If you can, drop by to meet the people and ask their advice about your first visit.
ASK A FRIEND ALONG
A second person can help in many ways while you're there.
BRING A FAVORITE TOY OR GAME
It's a great time to have something your child loves with you.
MAKE NOTES
It may not always be needed but it can be a big help afterwards.
ASK QUESTIONS
Try to keep it short, but now is a good time to speak up.
REVIEW NOTES
Write down the questions you forgot to ask or answers you don't understand.
PLAN FOR NEXT TIME
Every visit should help make the next one easier.

THE WAY WE GET HEALTHCARE IS CHANGING:
Why Care Management Matters
The phrase 'Managed care' can be scary when you have a child who needs more support than most. But we all need a system that is effective and affordable for the long haul and it's helpful to know how care management works and why it matters.
In the US we
overpay

 for healthcare, and as more of us live with challenges the future must be 

affordable

.

'Fee for service' means more treatment, medicine, etc.

Care is centered on hospitals

One in five Americans lives with a disability
It's time to focus on
wellness

, prevention and 

healthy lifestyles

and on the 

person

as well as their individual needs.

Eating good food matters to everyone

Care is about what we do everyday

Prevention is part of health promotion
Managed care puts the 
patient

at the

center

of a

coordinated

 system that uses data to improve outcomes.

Healthcare is shaped for each individual

The providers are all connected

The goal is knowing what works best

PEOPLE ARE DIFFERENT
It's helpful to know that what was once called 'personalized medicine' is now known as 'Precision medicine'. It suggests that better care—more precise and effective—starts with an understanding of the individual involved. That understanding comes from taking everything into account, from genetics and medical history to environment and personal circumstances.
Read More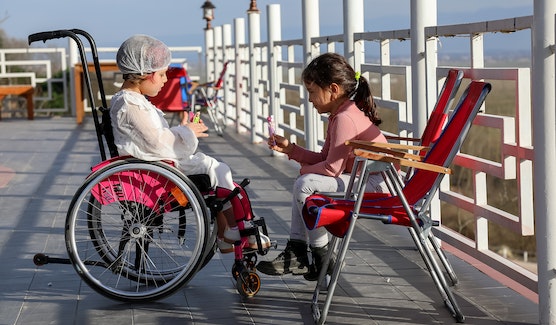 A PARENT'S GUIDE
There are things we should do to help our families stay healthy, and when you have a child with challenges it's a great time to actually start! The truth is that the most important changes we should all make are based on common sense. New research keeps on showing us that some old-fashioned ideas were right all along: when our grandparents told their children to go outside and play, wouldn't let them eat between meals and made them go to sleep early on school nights, they were more scientific than they knew.
There is plenty we parents can't control, but here are some things we can do to help our children and the whole family.